Excellent Technothriller Box Set Deal – 4 Full Books for $1! $1 only on Jan 13th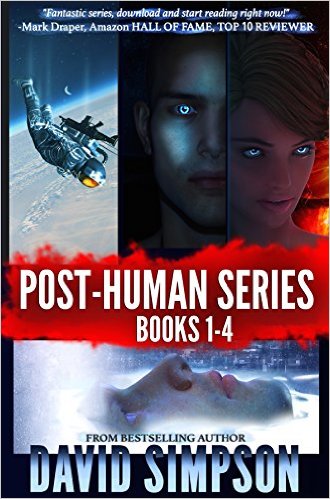 ***Post-Human Series Books 1-4 (Deal, Not Free) by David Simpson. Price: $0.99. Genre: Technothriller Box Set Deal of the Day, Sponsor, Only Jan 13th, Alien Invasion, Science Fiction, Space Marine, Space Exploration, Space Opera, Post-Apocalyptic, Hard Science Fiction, Technothrillers. Rated: 4.4 stars on  1,992 Reviews. 805 pages. ASIN: B00H0D5NTI. Reviewers love it: All SciFi fans should take note of this author – he is thinking out of the box! I have read all the four books in the series and I loved every minute of it! What an incredible opportunity! This is a fabulous collection! Grab it now!
FREE Fantasy + Romance Box Set!
*Gods and Mortals: Fourteen Free Urban Fantasy & Paranormal Novels Featuring Thor, Loki, Greek Gods, Native American Spirits, Vampires, Werewolves, & More by C. Gockel, S.T. Bende, Christine Pope, Eva Pohler, Ednah Walters, Mary Ting, Melissa Haag, Laura Howard, DelSheree Gladden, Nancy Straight, Karen Lynch, Kim Richardson, Becca Mills, T.G. Ayer. Price: Free. Genre: Paranormal Romance Box Set of the Day, Sponsor, Angels, Demons & Devils, Witches & Wizards, Vampires, Werewolves & Shifters, Paranormal & Urban, Norse & Viking. Rated: 4.2 stars on 169 Reviews. ASIN: B00VCM31QK. Reviewers: I have read several stories in this collection and I loved them! What an awesome bundle! I am so happy I stumbled on this collection! Too good to pass up! There are so many amazing books rolled up into one bundle! It had a little bit of everything!
*** Science Fiction
*Pyramid Lake (Deal, Not Free) by Paul Draker. Price: $0.99. Genre: Technothriller Deal, Sponsor, If you like Stephen King, SciFi, High Tech, Horror, Hard Science Fiction, Dystopian. Rated: 4.1 stars on 246 Reviews. 426 pages. ASIN: B00H9HIIDI. Reviewers love it: Brilliant! This is a captivating and a very thought-provoking novel! This is a young author that you most definitely want to keep your eye on! A Stephen King style of writer is on the making! This book is an amazing techno-thriller, enough to make you hold your breath in wonder! It is also within the realm of possibility! I liked the genuinely good writing! I can't wait to read his next novel!
*Save the Last Bullet for God: An Anamorphous Tale About Origins, Aliens and Time (Deal, Not Free) by JT Alblood. Price: $0.99. Genre: Fantasy Deal, Sponsor, SciFi, Supernatural, First Contact. 252 pages. ASIN: B01A7BX8PA. Reviewers love it: A very informative story! I am still speechless from this story! It is fun, intelligent and challenging to our preconceived notions about life and what the pursuit of happiness should be. An outstanding read! This is an exceptionally good read that I would recommend to most of my friends! Wow! What a unique and thrilling story! Overall, it is a well written and entertaining book!
*** Fantasy
***Redemption (Legends of Graham Mansion Book 1) by Rosa Lee Jude, Mary Lin Brewer. Price: Free. Genre: Supernatural + Fantasy of the Day, Sponsor, Supernatural, Paranormal & Urban Fantasy, Ghosts. Rated: 4.6 stars on 98 Reviews. 223 pages. ASIN: B009ZM6Q7K. Reviewers love it: Wow! This was so good! This book is a joy to read! I was barely able to put it down after the first three chapters! This book was awesome! I absolutely loved this novel and I am anxiously awaiting the second one! I was pleasantly surprised by how the author spun a story using a local landmark! Well written and factual! This is such a fantastic book! I recommend this fiction to locals and readers of all ages!
***The Emperor's Edge by Lindsay Buroker. Price: Free. Genre: Epic Fantasy, Sponsor, Science Fiction, Steampunk, Sword & Sorcery, Paranormal & Urban. Rated: 4.5 stars on 766 Reviews. 324 pages. ASIN: B004H1TDB0. Reviewers love it: This book deserves a sixth star! For a novel as well written and entertaining as this, it is difficult to know where to begin in singing its praises! Incredibly gripping, it reels you in! Wow! What a great adventure! A book full of unusual strengths! Exciting and thoroughly entertaining! Buroker has a very wide vocabulary and uses words I've never heard before, like "satrapy". A definite surprise and delight!
*Dreamthief (Fairy World MD Book 1) by Tamara Grantham. Price: Free. Genre: Paranormal, Sponsor, Mythology, Fairy Tales, Fantasy. Rated: 4.7 stars on 39 Reviews. 318 pages. ASIN: B011WJIQOO. Reviewers love it: I can't find the proper words to describe how much I love this book! This is the perfect story for those who like magical creatures and a good adventure! A fast paced adventure that doesn't leave any time for boredom! A delightful read! Absolutely incredible! I haven't been in this much love with a book since I read the Harry Potter series!
Fantasy from Other Genres
Ghost: Spooky Spirits – Ghost Thriller, Ghost Mystery, Supernatural Thriller: (Ghost, Spirit, Supernatural, Spooky, Scary Story) by John Stone. Price: Free. Genre: YA Romance, Psychological Thriller, Fantasy & Supernatural, Aliens. Rated: 4.1 stars on 67 Reviews. 187 pages. ASIN: B00H1FBFLU.
*** YA Fantasy, YA Thrillers
*KLAN: Killing America by Ken Rossignol. Price: Free. Genre: Teen & Young Adult, Serial Killers, Civil Rights, Murder & Mayhem. Rated: 4.4 stars on 31 Reviews. 290 pages. ASIN: B00B3GGYAU.
*A Blaze of Magic: Chosen Saga Book Two by J.L. Clayton. Price: Free. Genre: Paranormal, Fantasy, Teen & Young Adult. Rated: 4.8 stars on 11 Reviews. 272 pages. ASIN: B00RM5H342.
*Envious by Katie Keller-Nieman. Price: Free. Genre: Dark Fantasy, Fantasy, New Adult & College. Rated: 4.7 stars on 9 Reviews. 347 pages. ASIN: B00INF6OMW.